Shopping Cart
Your Cart is Empty
There was an error with PayPal
Click here to try again
Thank you for your business!
You should be receiving an order confirmation from Paypal shortly.
Exit Shopping Cart
How often should I get my windows cleaned? This is a question we window cleaners get asked time and time again. It really depends on the individuals circumstances and budget, but if you really have no idea hopefully this might help a little.
Traditionally in the UK, many window cleaners used to clean residential properties once every fortnight. Nowadays it's very rare for a domestic customer to ask for fortnightly cleaning, most are happy with monthly cleaning or even once every two months for larger properties. Really it's a matter of personal choice but the vast majority of our domestic customers at Andrew's Window Cleaning have their windows washed once a month.
Commercial and industrial window cleaning can be very different. Most shops have their  
windows cleaned at least once a week. If the store is situated on a busy road they might even have their shop front windows cleaned several times a week. A high class boutique or jewellers might even require a daily window cleaning service.
For offices, places of work and public buildings, frequencies often vary between monthly and maybe just once or twice a year.
If your window cleaning budget is tight, one way of saving money could be to have the rear of the building cleaned at longer intervals than the front, after all the front is the part that most of your visitors will see first. 
One final tip, don't forget to consider internal window cleaning! This can often be overlooked but there's really no point in cleaning just one side of the glass now is there?
Ladder safety do's and don'ts 
According to the Health and Safety Executive, falls from ladders account for more than a quarter of all falls from height.The sad thing is, most of these could easily be avoided if some simple safety procedures were followed.To help make sure you aren't the victim of an injury (or worse), here are some guidelines for using ladders from
www.brownsladders.co.uk
 for you to follow: 
DO:  Ensure your ladders are fit for purpose before using them. Thoroughly check for any defects. 
Place ladders on a solid and even surface as possible. Whatever you do, don't let them sit on slippery surfaces. 
When using a step ladder, lock the spreaders into place before ascending the ladder. Maintain your grip with both hands on the ladder, and face it when climbing. 
Use a tool belt or pulley system instead of carrying tools up ladders. 
Lean the ladders at the correct angle – as specified in the ladder instructions. 
DO NOT:Use the top two rungs of any ladder. If you need to go further up, just get a longer ladder. 
Allow more than one person on the ladder at a time. 
Overreach! Climb down and reposition the ladder if you feel the need to. 
Work near electricity of overhead hazards, especially with a metal ladder. 
Put the ladder in high traffic areas unless there is no alternative. If it is, make sure if is cornered off to prevent collisions. 
Lean a step ladder against a wall like you would with a normal ladder.
Following these simple rules will keep you safe and avoid costly accidents.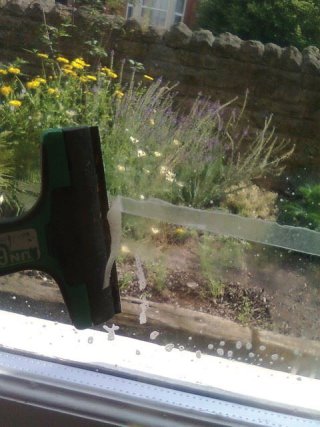 Many people don't realise the problems they are creating as they happily stick up their balloons, banners and party decorations with sellotape.
When it comes to removing any adhesive tape from glass it rarely peels of easily.
Rubbing it with a cloth or sponge rarely works either- what you really need is a scraper!
The best scraper to use is one which is specifically designed for the job. Most online window cleaning supplies shops sell scrapers. Don't forget to order some spare blades as well. 
Start by wetting the window with a little soapy water, and then, keeping the scraper almost parallel to the glass, gently start to lift the tape from one end. After the tape has been removed their is likely to be a residue left on the glass, but this can soon be cleaned off with good old fashioned elbow grease.
If you are a little apprehensive about using a scraper on glass, you should call a professional window cleaner to do the job for you. 
/